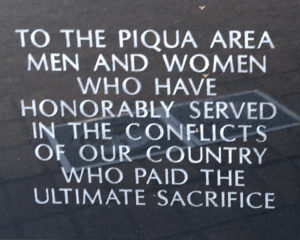 It all began in 1991, when a Veterans' Memorial Committee was organized to promote and establish a memorial area to honor citizens who gave their lives and service to the preservation of freedom throughout the world.
Many Americans share feelings of sincere gratitude for what the men and women of our military have sacrificed and endured while fighting for our freedom. The Veterans Memorial Program is dedicated to providing a very special place for us to show our gratitude and appreciation; a memorial that will honor all veterans, no matter where they lived or died.
This is a program and a memorial aimed at ensuring we never forget the legacy of our veterans – past and present.
The war memorial was constructed at a cost of $125,000 and is situated on a 1.4-acre plot at the intersection of Washington Avenue and State Route 66, adjacent to Forest Hill Cemetery. The monument was dedicated on November 6, 1993 with Col. William Baugh as the keynote speaker.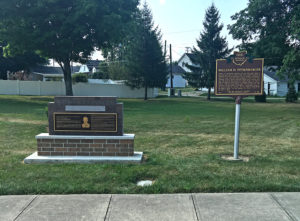 The focal point of the memorial is an eight-foot black granite monument listing over 160 names of Piqua citizens, who sacrificed their lives to preserve the freedoms and ideals the country was founded upon, from World War I through the present time. In addition, the monument includes a listing of the six branches of service, and a listing of all of the wars and conflicts in which our country has engaged. Because of them, we are free. Their sacrifice has not been in vain and will not go unnoticed.
A major brick repair project was completed in 2008 on the monument around the base of the granite memorial and the sides of the base. In the spring of 2016, repair to the dedication bricks began. This project will be completed by the fall of 2016.
Currently, funds are being raised to complete two additional quadrants of dedication bricks. Upon completion of the two new quadrants, the plaza area surrounding the monument will include over 4,000 dedication bricks honoring US Veterans.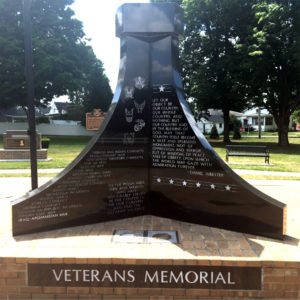 Bricks are available for purchase to honor living and deceased veterans. To purchase a brick, pick up an order form at the Chamber, or complete the form below. Each brick costs $50 and includes an engraving of the veteran's name, date of service and in which branch of the armed forces they served.
Mapping of the dedication bricks currently at the memorial will begin this fall. They will be available for digital download in the spring of 2017 at the Piqua Area Chamber of Commerce. As new bricks are placed, the maps will be updated.
---