Miami County Safety Council Hosts Health & Safety Fair
Safety-related work practices are important in every company. The Miami County Safety Council covered several important topics in a safety fair on June 11th. The event drew an attendance of 72 people from Miami and surrounding counties.
Lynne Gump, Executive Director of the Northern Miami Valley, Ohio Chapter of the American Red Cross began the seminar by covering "Citizen's CPR." Gump instructed participants with a compression-only CPR class which is effective in caring for a person with no signs of life when a rescuer is unable, untrained or unwilling to perform full CPR.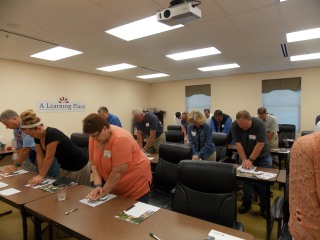 Members of the Safety Council doing "chest compressions" during Lynne Gump's "Citizen's CPR" session.
City of Piqua Police Department Deputy Chief Marty Grove shared important steps to take in the event of an active shooter or armed intruder that enters a place of business or home. The Run-Hide-Fight scenario provides individuals with the tools to react to an emergency situation.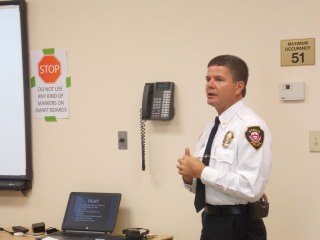 Deputy Chief Marty Grove of the Piqua Police Department
Greg Meyer, President of Midwest Industrial provided information on "Forklift Safety." Meyer spoke about operating forklifts in a safe manner and shared information regarding daily inspections and coaching forklift operators.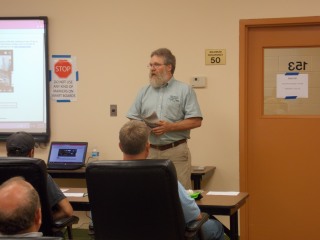 Greg Meyer, President of Midwest Industrial
Sarah Towning, Vice President of Wellness Collective, continued the training with "Sitting is the New Smoking." Towning shared information about the significant health consequences for people who spend most of their lives sitting. She discussed new research findings regarding current behavioral trends and strategies to reduce sedentary time as well as methods to incorporate light activity into your workday.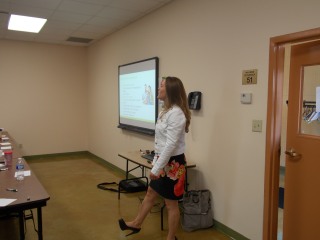 Sarah Towning, Vice President of Wellness Collective
The fair was concluded with keynote speaker Brock Heath of Troy, Ohio.Heath spoke about his personal story and the passion he shares for helping others to overcome physical and mental barriers that veterans face upon returning home or work following military deployments. He shared methods to identify signs to help others to make the transition to civilian life. Heath is an author of "How to Succeed in the Civilian World, for Military Veterans" and owner of Gauntlet Development.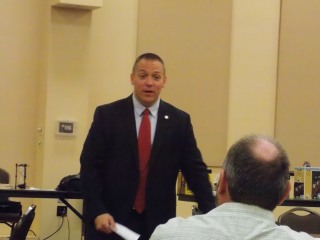 Brock Heath, owner of Guantlet Development
The Miami County Safety Council offers many topics of interest for local businesses and industries pertaining to health and safety issueas. The organization meets once a month on the second Thursday of the month. Information about the Miami County Safety Council is available on this website. Membership can be applied for through the Piqua Area Chamber of Commerce.