OSHA's Walking and Working Surface Standards affect both construction and general industry businesses. During the September meeting Jim Pellegrino, Industrial Safety Consultant with the OHIO BWC, provided details and tips to assist with compliance, accident avoidance, and awareness on this vital topic.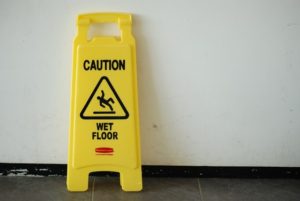 Slips, trips, and falls account for more general industry accidents than any other single reason and are the 2nd leading cause of workplace fatalities. Miami County employers can make a significant impact on worker safety and prevent many slip, trip, and fall injuries by creating a culture of safety awareness. More specific compliance assistance is available at https://www.OSHA.gov. Ohio employers can receive additional assistance for identifying and reducing physical hazards in their workplace with resources found HERE.  Article By: Tammy Beckett
---
Next month's meeting is Thursday, October 10, 2019 from 12:00 noon to 1:30 pm at Romer's @ A Learning Place, 201 RM Davis Parkway, Piqua, Ohio. We will learn about "Fire Prevention; Live fire and Extinguisher practice" Lee Adams, Assistant Fire Chief with the City of Piqua Fire Department.
To RSVP, go to this page for the current monthly meeting as one is held each month.
If you register before Monday of that week's meeting you will always be entered into a gift card drawing.
Please contact Lbraun@piquaareachamber.com is you have any questions.